I have provided information here about some of the best beaches in the Virgin Islands but there are many more to choose from. Come visit our beautiful islands and discover your favorite beach. Everyone's got one. Hop on a plane or come by sea. Explore our magical islands and pristine beaches and find your favorite place in the sun.
ST. THOMAS BEACHES
Coki Beach - Located next to Coral World Marine Park in Smith Bay, this beach offers first class snorkeling for the whole family. There is a dive company, equipment rental and snack shop onsite.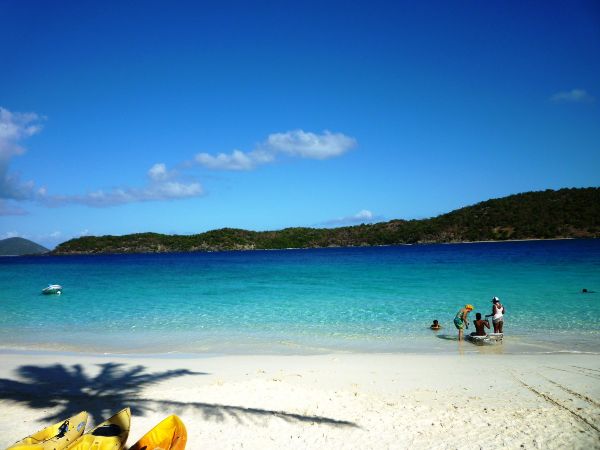 Coki Beach
Magens Bay - Located on the north shore, this mile long white sand beach has been voted one of the top ten beaches in the world by National Geographic. Restaurant and bar, boutique and changing facilities onsite. Snorkel gear, paddle boats, sunfish, beach chairs and floats are available for rent. A great place for kids and for fitness buffs. Swimmers, runners and walkers gather here early in the morning for their daily workouts. Lifeguards on duty. Admission Fee.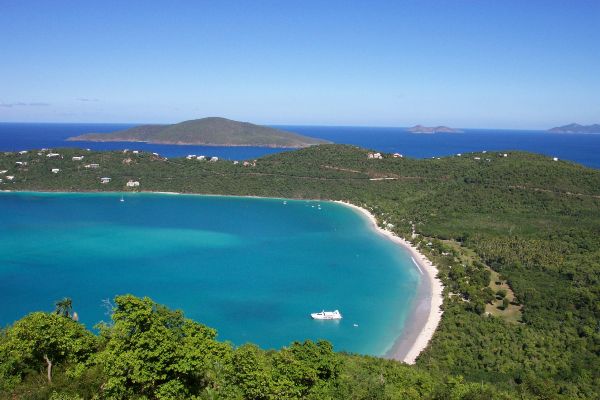 Magens Bay
Morningstar Beach - At Marriott Frenchmans Reef hotel on the south side of the island. Restaurants and volleyball on site. Floats, lounge chairs, umbrellas and Jet Ski rentals are available. Watch the cruise ships as they leave Charlotte Amalie harbor at the end of the day while sipping a drink on the beach.
Secret Harbor Beach Resort - Quiet east end location with calm crystalline waters and pristine white sand beach. Onsite beach bar and award winning restaurant, Blue Moon Cafe, overlooking the beach. Lounge chairs and water sports equipment are available to rent.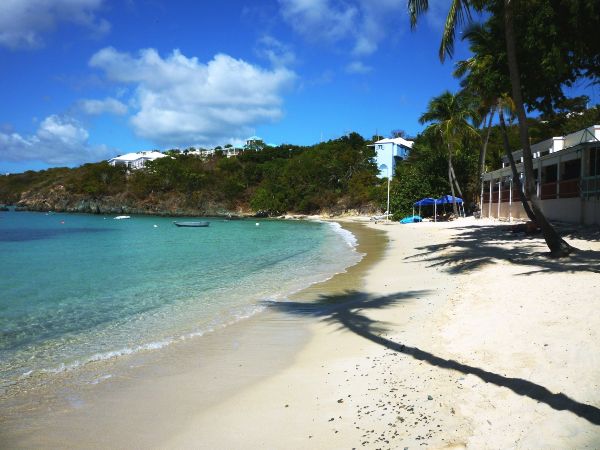 Secret Harbour Beach
Hull Bay Beach - Surfers delight! Catch the perfect wave at this northside beach popular with the locals. Beach bar and restaurant and the best surfing in St. Thomas. Local fishing tournaments are held here. Darts, horseshoes and volleyball. Dogs welcome.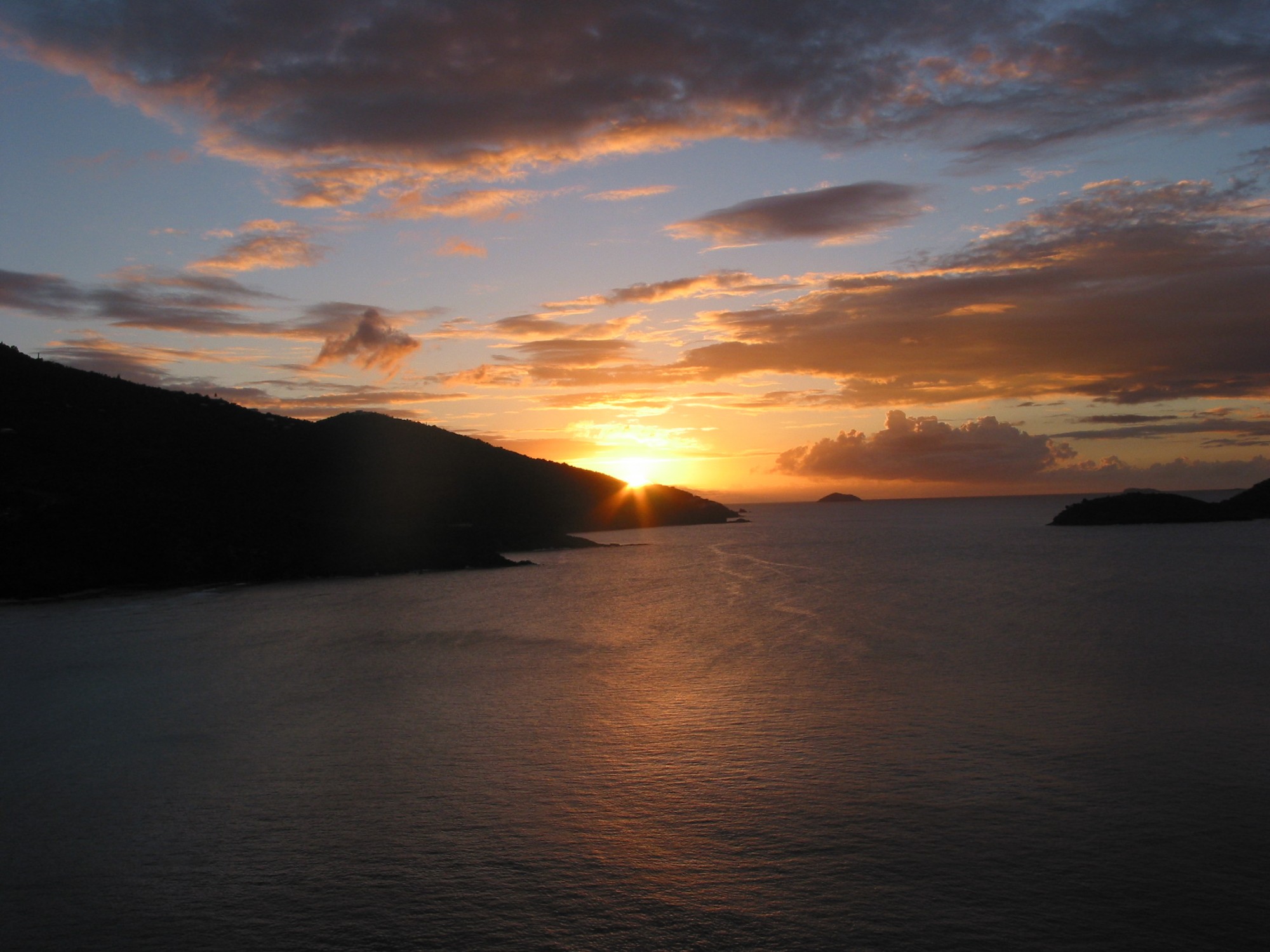 Sunset Over Hull Bay
Sapphire Beach - The turquoise waters, cooling trade winds and sugar white sand make this east end beach one of the most popular on the island with tourists and locals alike. Windsurfing, volleyball, Jet Ski rentals and parasailing is available. Restaurant and bar on site. A popular local and tourist hangout for live music and dancing on Sunday afternoons. Children will love this beach.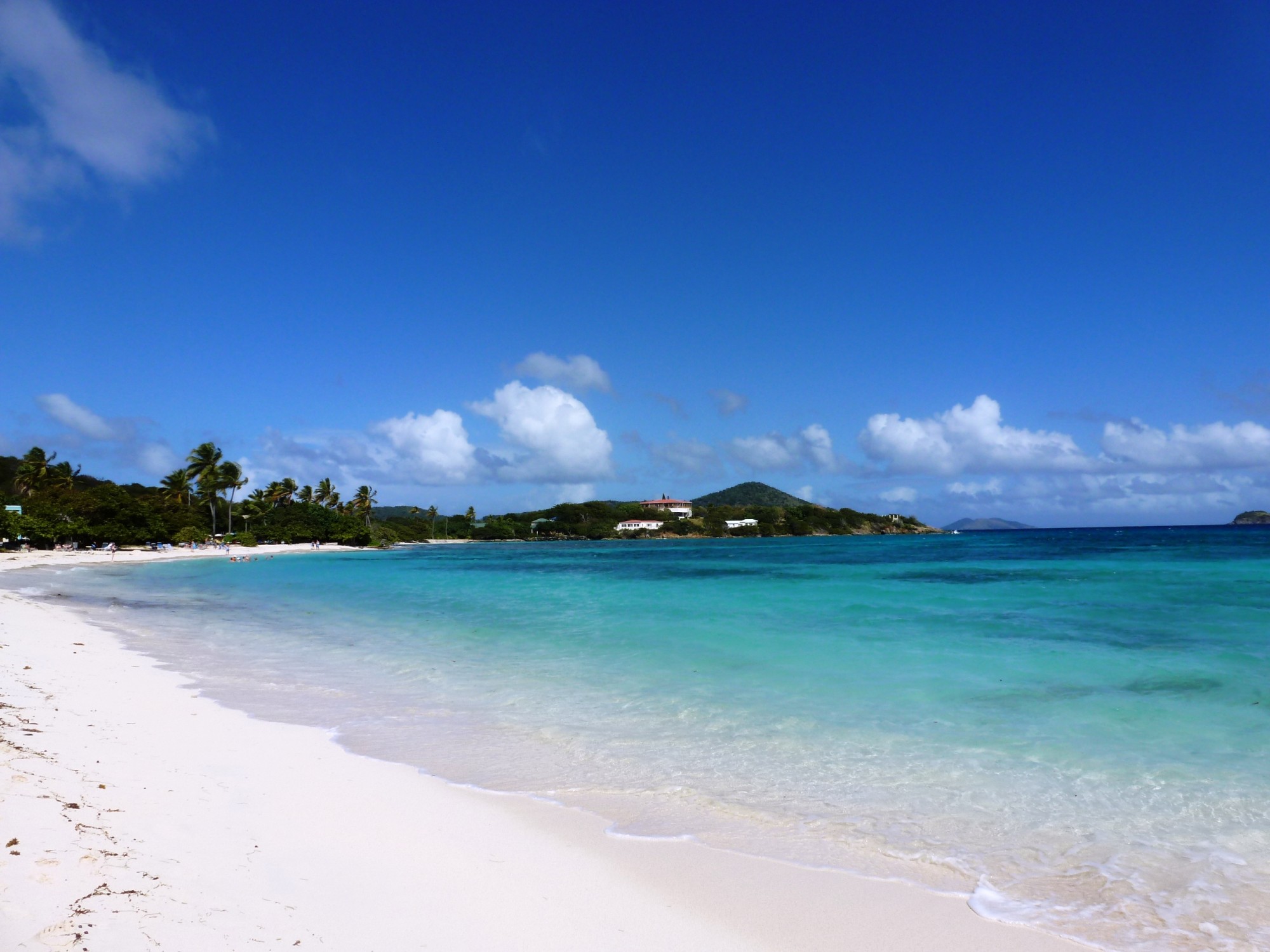 Sapphire Beach
ST. JOHN BEACHES
Cinnamon Bay Beach - Located within the Virgin Islands National Park just minutes from Cruz Bay, the powder white sands of Cinnamon Bay beach stretch almost a mile. Cinnamon Bay National Park Campground offers cottages, tents and bare campsites with fresh water showers.
Trunk Bay - For snorkeling, head to Trunk Bay and take the self-guided snorkeling trail with signage pointing out the various marine life along the way. You can rent snorkel gear, have lunch at the snack or lunch bar and shop at the gift store. Other amenities include restrooms, showers,changing areas and picnic area. Lifeguard on duty.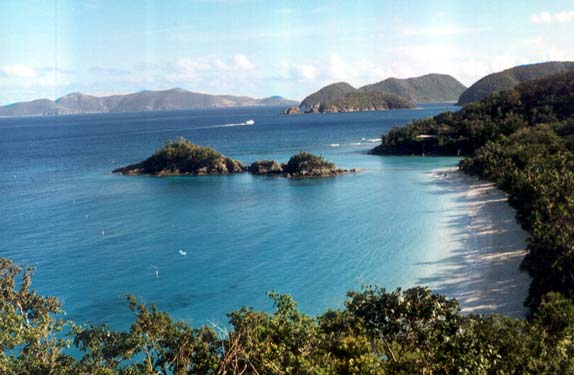 Trunk Bay
Hawksnest Beach - A popular beach with locals very close to Cruz Bay. Hawksnest is another beautiful white sand beach along the Northshore Road within the Virgin Islands National Park. There are picnic tables, barbeque grills, restrooms, changing areas and a reef just offshore.
Caneel Bay - Seven idyllic and picturesque white sand beaches-some secluded. Caneel Bay is a romantic getaway for Honeymooners or anyone who's just falling in love. Facilities, restaurants, and a luxury hotel on the premises which is a former "Rock Resort". Non-guests are welcome!
Other notable St. John beaches include Maho Bay, Leinster Bay and Francis Bay all located on the north shore of St. John.
ST. CROIX BEACHES

Buck Island Reef National Monument and Beach - Uninhabited island 1.5 miles off the northeastern shore of St. Croix. 176 acres, nature trails, an underwater narine park with reef trail and many gorgeous beaches. Buck Island has the world's only underwater National Monument hiking trail with over 90 different varieties of fish along the reef.

Sandy Point - St. Croix's longest beach just south of Fredericksted on the west end. This unspoiled National Wildlife Refuge is a nesting ground for endangered leatherback and green sea turtles.
Sandy Point
Cane Bay Beach - Terrific diving and snorkeling spot located on the northwest coast. Water depth drops to 1000 feet about 1/4 mile offshore. World class diving sandy beach, crystal clar waters, restaurant and dive center. This is a spectacular reef for diving and snorkeling. Popular watering hole and dog friendly!
Reef Beach - This is one of the locals' favorite beaches! Windsurfing, white sand, water sports and lounge chairs for rent. Located on the east end of St. Croix, Reef Beach also boasts excellent food at Duggins Reef Restaurant.
Do you dream about living on the beach? Please contact us about how you can relocate to the US Virgin Islands.